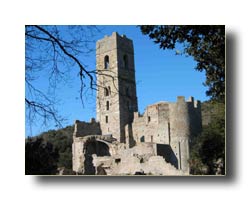 Inside the Regional Park of the Maremma, on the top of a hill stands the Abbey of San Rabano , of Benedictine origin and dedicated to Saint Maria Alborense.
The abbey was probably founded in the 11th century on the site of a previous building used as a monastic retreat. It is thought that the plan of the church with three absides corresponds to the original church built there in the 11th and 12th centuries while the subsequent modifications concerned only the higher part of the building.

Ansedonia was once the port of the Etruscan city of Cosa and today is a famous holiday resort with modern, elegant villas near the remains of the Roman city and the ancient towers of San Biagio and San Pancrazio, remnants of the Spanish dominion. On the beach there is a Renaissance tower where, in the early 1900's, the composer Giacomo Puccini, enamoured by this magnificent natural environment, retreated for inspiration.

The oldest part of Arcidosso consists of the small village whose narrow, winding alleys twist up and down on the western side of the hill on which the beautiful stronghold, the Rocca Aldobrandesca, stands. The walls which enclosed the original town are today only partially visible. Two gates, with semicircular arches, are the most significant remains of the town's ancient fortifications.